Tokyo

Following the time schedule:
Ginza

Edo-Tokyo Museum

Akihabara

Imperial Garden

Yoyogi-koen

Harajuku

Shinjuku west

Kyodo

Shinjuku east

Odaiba

Shibakoen

(Kyoto, Osaka)

Asakusa

Ueno-koen
Miscellaneous
Videos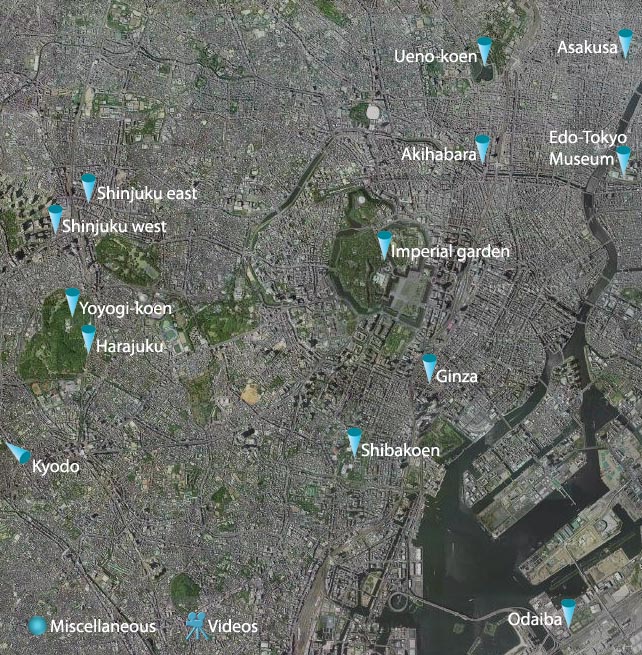 G I N Z A
Ginza, a district in the eastern Chuo-ku area, is known as Tokyo's most famous upmarket shopping, dining and entertainment district, featuring numerous department stores, boutiques, art galleries, exlcusive restaurants, night clubs and cafes.
As you'll read in the Edo-Tokyo Museum notes, Ginza was the first city area to be built according to western architecture rules and style (the "Bricktown"), in late 19th century.
For us, it was our first impact with the city and definitely gave us the Tokyo picture we imagined (wouldn't be the only place though).
We didn't actually exploit Ginza for upmarket and expensive shopping, instead we walked it, entered the Sony Building, saw the first endless series of multicolored neon banners, found a cheap restaurant, a pub, heard the continuous stream of sounds that wraps every corner in the whole city center.
It was definitely a representative introduction to the city for us.
E D O - T O K Y O M U S E U M
The Edo-Tokyo Museum, located inside a futuristic building in the north-eastern Taito-ku area, collects items and brief history information from the Edo period on one side, and from Meiji era (when Edo became Tokyo in 19th century) on the other.
All over the place, there are plenty of miniatures representing the city activity, the Daimyo (i.e. a sort of governor) residence, a kabuki theater, the Edo bay, the early western-style Ginza district, and so on. There is also a stage where real musicians play music from Edo times.
A K I H A B A R A
Akihabara (short: Akiba) is a district in the north-eastern Taito-ku area, famous for its many electronics shops. In recent years, it has also gained fame as a center of the gaming, manga and animation culture.
Hundreds of electronics shops of various sizes can be found around Akihabara Station. They offer everything from the newest computers, cameras, televisions, mobile phones and home appliances to second-hand goods and electronic junk at very competitive prices.
So, if you are an Otaku (i.e. a fan of electronic, games, manga, anime etc.), and you got a few money to spend, don't go there.
Don't. Go. There.
Akihabara is the Evil, the sirens call will inesorably lead you in its galleries, you'll wake up few hours later in the metro and you will find in your bag DVDs you will never watch, three compact digital cameras of same brand/model but different colors, two super cool japanese mobile phones which can't work outside Japan, and even worse.
Even I, the last day when I was walking directed towards Ueno park, got lost and ended up in Akihabara against my will, so I had to enter Yodobashi Camera and buy an underwater case for my little Sony T-10. Well, maybe I'll use it one day...
I M P E R I A L G A R D E N
The Imperial Palace East Garden is part of the biggest park in the city. We weren't able to see the actual Imperial Palace, since it was closed behind walls.
The park in itself is nice, despite not as peculiar as other ones, and has some typical "japanese flavour" here and there.
Our first sunny day there...
Y O Y O G I - K O E N
Yoyogi park is a forest-like green area west to the center, very different from the other parks in the city.
Tall trees cover in shadow most of the areas, except the middle area where you find the Meiji-Jingu Shrine.
H A R A J U K U
Every sunday afternoon, lost of young girls, apparently coming from residential "cyberpunk" areas around Tokyo (Chiba, Kawasaki), gather in front of the Harajuku station (near the east gate of Yoyogi park, precisely on the Jingu Bashi bridge) and change their identities by dressing up according to colorful and unusual subculture trends, from gothic lolitas to resemblance of their favourite stylish bands (also known as Visual-kei), to anime/manga characters. The whole fenomena is known as Cos-play ("costume play"). Needless to say, also a lot of photographers gather around there.
Not far from there, there is a bunch of nice Rockabilly guys dressed Teddy-boy style with black leather, jelly hair and so on, dancing 60's rock'n roll music.
Still in the same area, especially around the streets east to Yoyogi park, various bands play their own music live.
This is easily one of my favourite experiences in Japan, and I'm going to repeat it next time I'll be back there.
S H I N J U K U W E S T
The area in Shinjuku west to the station is where most of the government/administration offices and building are located, and also there is the highest concentration of skyscrapers in the city.
By the way, when you walk the narrow streets around the station right by the main Koshu Kaido avenue, you can find a more colorful (and soundful..) enviroment full of electronic goodies shops - so many to make the area compete with Akihabara - and also arcades, Pachinko, and many restaurants of every kind.
Unfortunately there aren't photos of the latter part (but there are videos!)
S H I N J U K U E A S T
On the east side of the Shinjuku station, you can't really find special attractions, but it's still nice to walk around. There you will find Kabukicho, the red light district, and generally many clubs and restaurants as in the west side.
K Y O D O
We visited the area around Kyodo station for one reason: our friends Massimo and Erika just went to live there! But it was also very interesting to walk, for the only time we did, around a Tokyo non-central area.
Here it feels more like (probably) a normal japanese city is, without lights, people and sounds screaming at your face from everywhere.
O D A I B A
Odaiba is a large artificial island in Tokyo Bay, souht-east to the center, across the Rainbow Bridge from the city.
The name (where Daiba literally means "fort") comes from a series of six island fortresses constructed in 1853 by the Tokugawa shogunate in order to protect Tokyo from attack by sea, the primary threat being Commodore Matthew Perry's Black Ships which had arrived in the same year.
During the 1980s, a spectacular redevelopment of the islands into a futuristic business district was started, but development was critically slowed down after the burst of the "bubble economy" in the early 1990s. Today Odaiba is a very important business, shopping and leisure center. I went there mainly for some good examples of modern architecture, and some nice sunset by the metropolitan sea.
S H I B A - K O E N
The park of Shibakoen, in the Akasaka district, is where our hotel was located, so it was convenient for seeing the Tokyo Tower (mostly because it was right in front of my room's window) and the Zojo-ji temple.
A S A K U S A
In the Edo period, the Asakusa area, which was developed around the Senso-ji temple, was half-a-way between the city and the red-light district, Yoshiwara. Decades after decades, the entire district was transformed in a red light district itself, later becoming the most popular leisure area in Edo.
This status continued in the early twentieth century; the first cinema, music halls and western-type kinds of entertainment were actually installed there. After WWII and the reconstruction, other districts in the city became more popular entertainment areas than Asakusa.
Nowadays, Asakusa has still kept its identity mainly because of Nakamise dori, where the most popular and big traditional-style market takes place every day, and the Senso-ji temple, the oldest and possibly most prestigious temple in Tokyo.
U E N O - K O E N
The Ueno Park, located in the northern east area Taito-ku, whas the site where in 1867 the last shogun of Tokugawa clan and his men fought and lost their last battle against the Imperial army. After Edo was renamed to Tokyo and the new Meiji era began, in 1873 the Ueno park was the first one in Tokyo which was opened to the public.
In the park area there's a high concentration of museums, and a zoological garden.
M I S C E L L A N E O U S
Some moments here and there during our trip.
V I D E O S To see the things in movement and playing sounds.